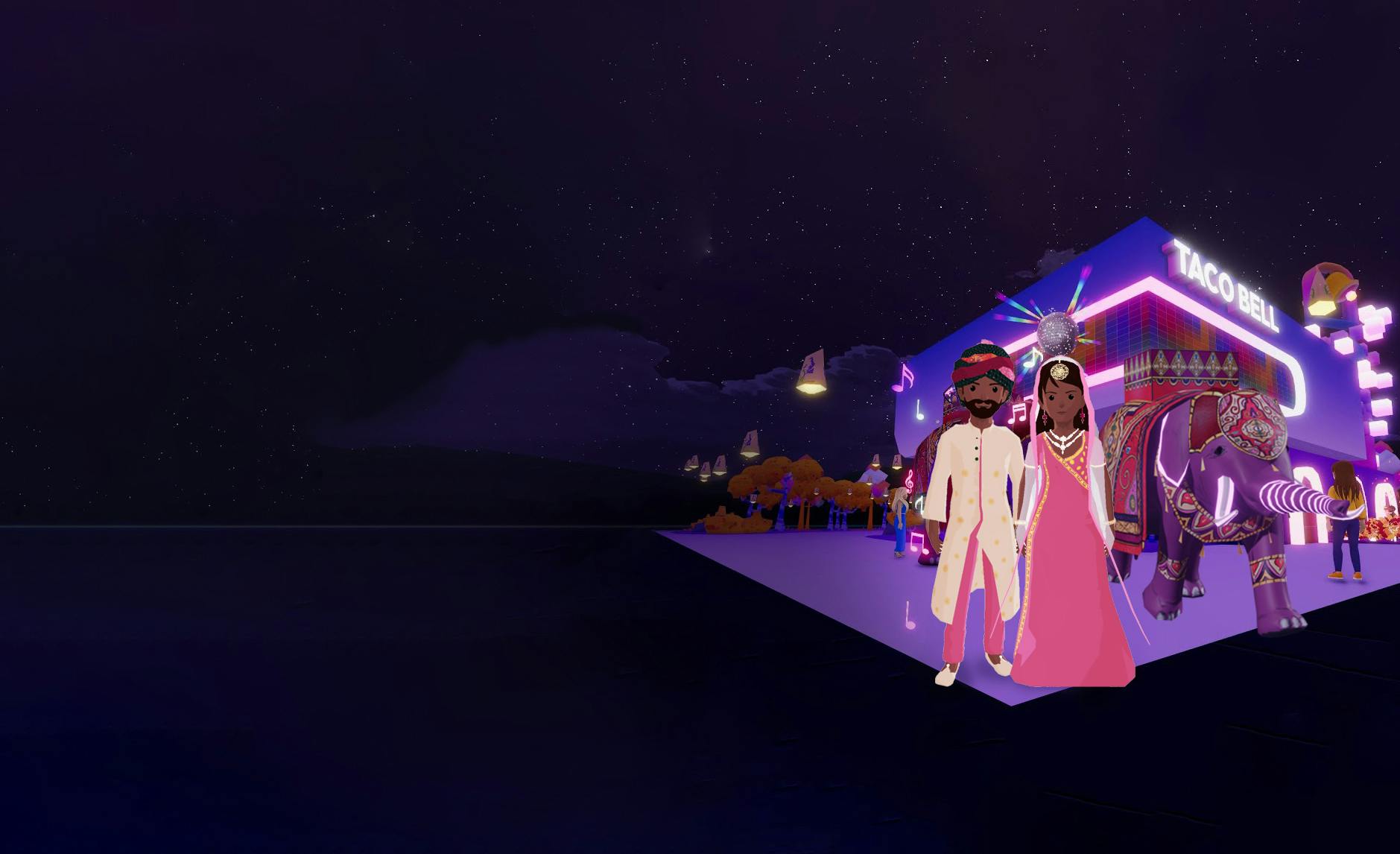 Taco Bell
The Metaverse Wedding

Taco Bell has been marrying people at its Las Vegas Cantina since 2017. But since technology has transformed the way that two people meet, they decided it was time to transform the way they marry.

We just needed to find an architect with significant cathedral experience, an interior designer used to working with cheese, a dressmaker who could make things float, a landscape gardener specializing in tacos, a DJ, a celebrant, a photographer, a barman, an electrician, several carpenters, a dozen sculptors and… an elephant. 

Oh. And all in the metaverse.

How do you find meaning in the metaverse?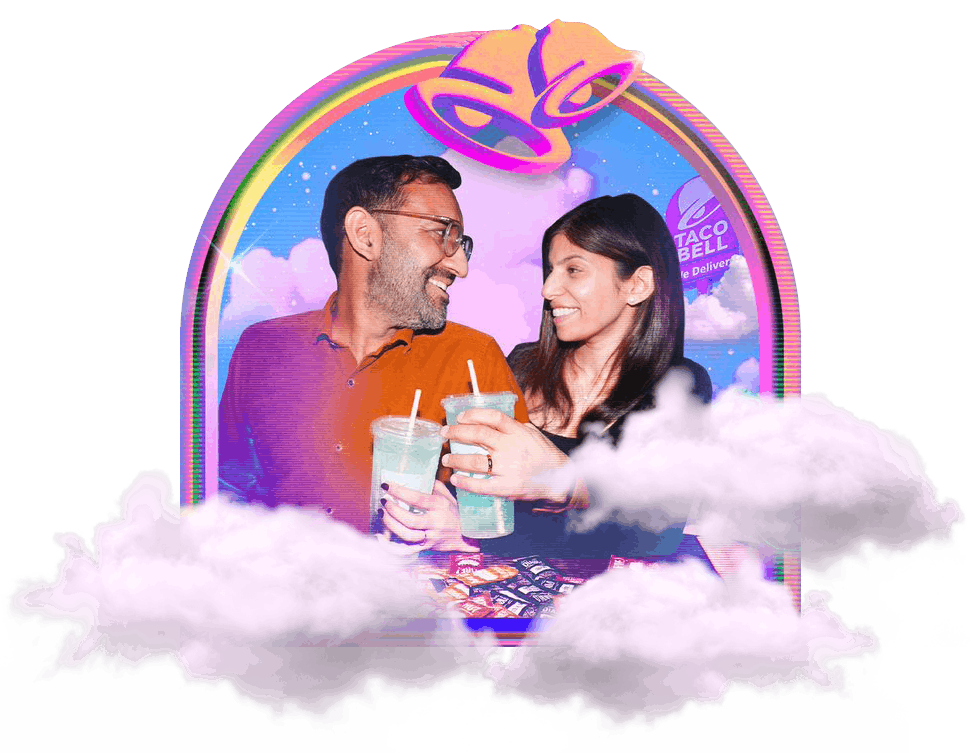 Weddings are pretty personal things. Often, they take place somewhere that's special to the couple, filled with symbols and references that embody their love. Rarely do people take an empty field in a virtual world and decide to build something meaningful from scratch. Except of course, if you've entered a Taco Bell metaverse wedding competition. So, when the winning couple, Sheel and Amruta, asked us to combine their Indian heritage with their love of Taco Bell to create a ceremony they'd never forget, we had to ask ourselves: how can we take a place that doesn't even exist, and give it meaning?
Creating a dream wedding out of elephants and nacho cheese fountains
To transform a virtual shell into the experience of a lifetime, we set out to personalize every aspect. So, when arriving at our bespoke venue, lanterns made from Taco Bell bags guided guests to a magnificent Taco Bell garden sculpture. Then, once inside, an elegant ceremony space led on to a reception room where custom elements, including a giant nacho cheese fountain, a photo booth nestled in the clouds and a bespoke Taco Bell wedding menu, merged with existing Cantina classics like the Taco Bell wedding arch, multi-flavour Baja Blast station and the world's largest virtual Cinnabon Delights cake. We also incorporated traditional Indian customs including Sheel's Baraat entrance astride a magical elephant and the ceremonial Mandap under which they were officially married, not to mention their unique wedding outfits. And of course, that's without talking about the suite of wearable NFTs available to the wedding guests or DJ Bell Head (watch out Deadmau5) and his now legendary 'Hot Sauce Packet' dancers. And if you think that all sounds like a serious technical challenge - you'd be right. First, we had to develop numerous bespoke programming solutions, whether that was to allow certain avatars to teleport to different locations or to separate invited guests and Decentraland spectators into different realms. But even once the experience was built, we still had to manage a live-broadcast event in real time, from levitating the couple into their own private space in the sky to say their vows through to triggering their first dance.
So, what did people think?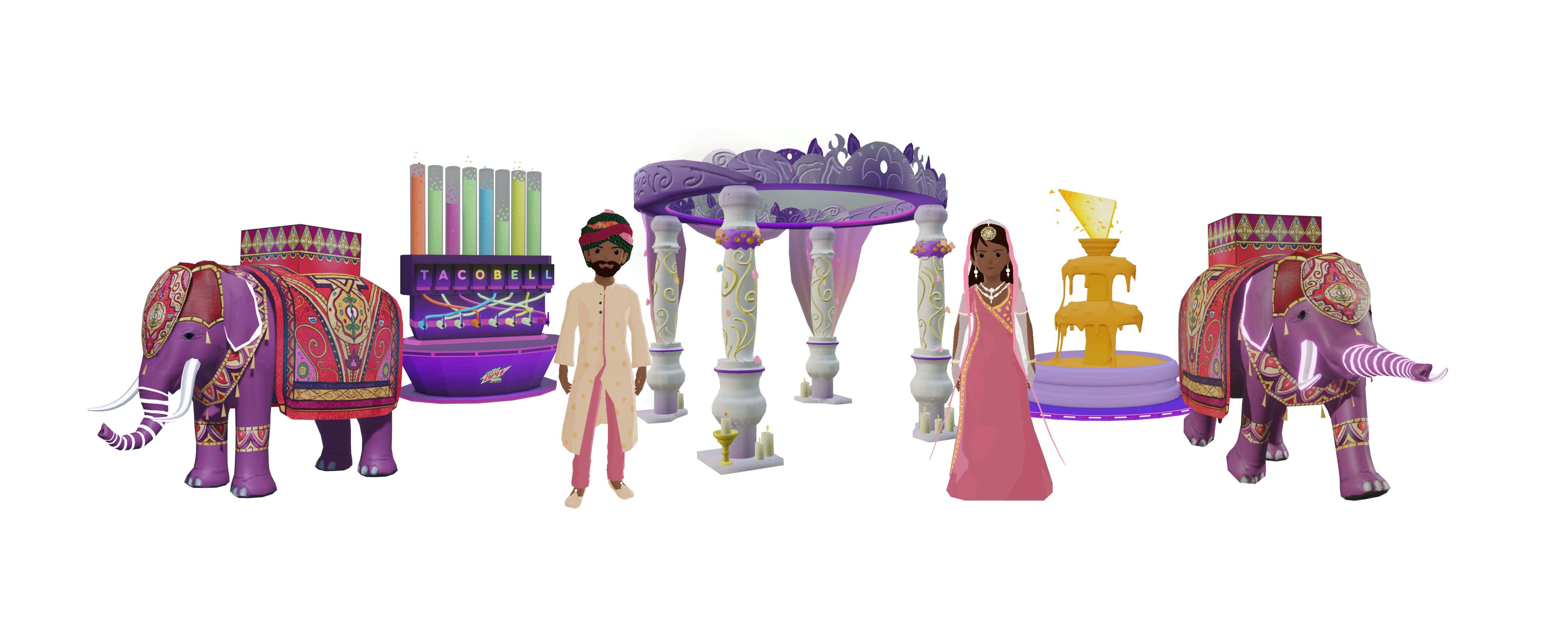 Celebrity MCs, The Late Show and the metaverse's very first kiss.
When you've got the groom's grandmother enjoying the Taco Bell Metaverse Wedding all the way from India, you know something has gone right. But this went far beyond friends and family. The entire ceremony was presented live on YouTube by host Kal Penn, helping to broaden its reach and even becoming a topic of conversation during Kal's appearance on Stephen Colbert's Late Show. We also invited social media influencer LEGIQN to attend the wedding and stream his experience through Twitch. 
Media coverage was extensive from the moment Taco Bell teased the metaverse coordinates, and things really took off when live viewers got to see history in the making - the first metaverse kiss, which we pulled off by creating the first kiss NFT emote. But the biggest test of all was the challenge we had set ourselves - had we managed to create something meaningful?